Beers Born From Adventure.
Hazy hop forward Pales, IPAs & DIPAs. Imperial Stouts, Sours & more, fresh from our Manchester Brewery & Taproom.
Order Beer fresh from our 4°c Coldroom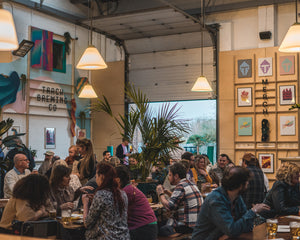 Taproom & Beer Garden
Come and join us at the Track Taproom. 20 Keg and 3 cask lines of our freshest beer, located in touching distance from the tanks that brewed them. We also have a beautiful beer garden, where you can enjoy fresh Sonoma in the Manchester sun.
Opening times
Mushroom Workshop with stockport funghi
This workshop is an introduction to the principles and requirements for cultivating oyster mushrooms at home. It will help you create the best chances for success in producing mushies!
The workshop will last for roughly 2 hours and you will get a free beer included in the ticket price.
Learn more
Friday 1st December - 3pm
What If... Maray Did Pizza?
Experimental pizza collaborations between Slice Culture and Maray!
Pizzas are limited and when they're gone they're gone...
block Party - christmas edition
It's time for another Block Party! The huge collaborative craft beer event which sees us, Balance, Cloudwater and Sureshot combine forces is back!
We are so stoked to have Tynt Meadow, Britan's only Trappiste brewery, pouring on draught for the first time ever! We will also have our resident vendor, Slice Culture slinging pizzas, and guests Companio Bakery will be crafting their legendary fresh ciabatta sandwiches.
Montane - Secret Session Tour
Sunday 28th January 3pm - 7pm
Kendal Mountain Festival's Secret Sessions are the fastest-selling and most sought-after events across the entire Festival. The concept is simple - your ticket gains you access to a small, intimate event starring someone from the world of adventure. After the fantastic success of our 2023 Montane Secret Sessions Tour we're back on the road in 2024.
We're delighted to be back at the amazing Track Brewing Taproom in Manchester. 

Address: Track Brewing Taproom, Units 17 & 18, Piccadilly Trading Estate, Manchester, M1 2NP

This incredible venue will be opening its doors at 3.00pm with drinks available to purchase. Pizzas will also be available to order throughout the afternoon from Slice Culture. The main event starts at 4.00pm. Please note: the venue will be closing at 7.00pm.
Learn more